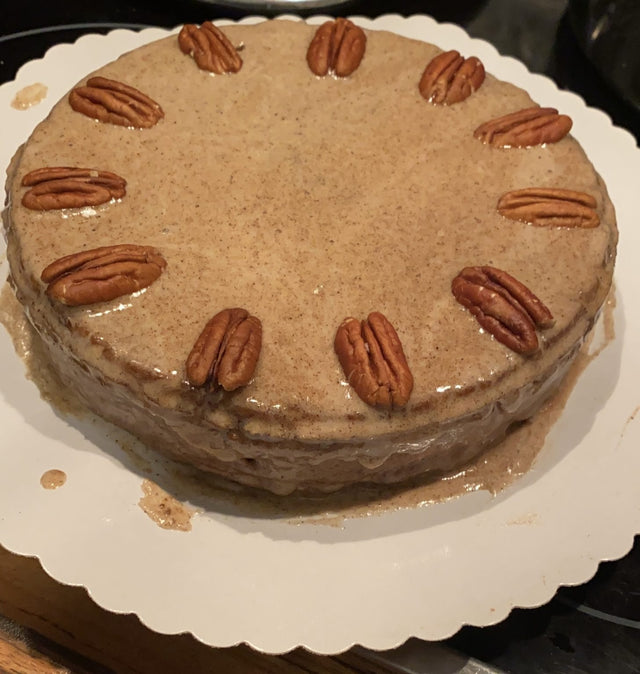 Vegan Carrot Cake
Ingredients 
– 250 g flour
– 2 tsp baking soda
– 1/4 tsp salt
– 1 tsp cinnamon
– 1/2 tsp nutmeg
– 100 g sugar
– 250 g carrots finely grated
– 150 g applesauce
– 75 ml (canola) oil
– 230 ml vegetable milk
– 1 tbsp. apple cider vinegar
– 1 tsp vanilla extract
– 100 g chopped walnuts
Cinnamon frosting

– 200 g powdered sugar
– 50 g vegan margarine
– 1 tsp vanilla extract
– 1/2 tsp cinnamon
– 1 pinch of salt
– 2 tablespoons plant-based milk 
Instructions
1. preheat oven to 180 degrees top and bottom heat. Lightly grease a 20 cm baking pan.

2. mix flour, baking soda, salt, cinnamon, nutmeg and sugar in a large mixing bowl. Whisk together grated carrots, applesauce, oil, vegetable milk, apple cider vinegar and vanilla extract in a second bowl. Slowly stir the carrot mixture into the dry ingredients and optionally fold in chopped walnuts. Mix everything together to form a batter and then spread into the baking dish.

3. Bake in the oven for about 45 to 60 minutes, until the batter is well cooked*. Remove from oven and let cool.

4.Once the cake has cooled, spread the frosting on top and decorate as desired.

Cinnamon Frosting

Mix all ingredients in a mixing bowl with a hand mixer for about 2 minutes. If the frosting is too firm, add a little vegetable milk until the consistency is creamy enough.