GOOD TO KNOW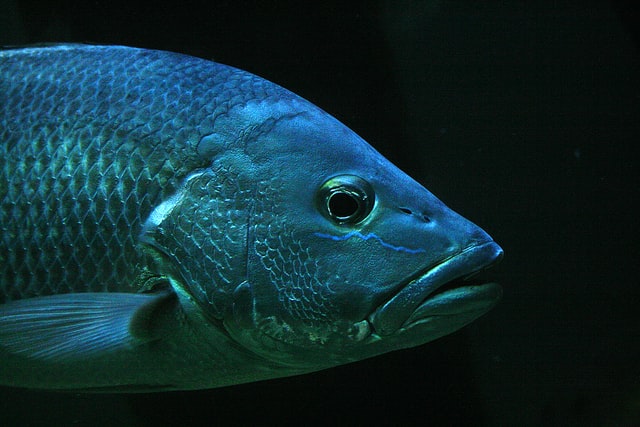 zander obliges
If your last name is synonymous with a predatory fish (pikeperch) and you work in an industry that kills the planet and pollutes our water, you feel obliged to swim against the tide. We make every possible effort to ensure sustainable production and maximum transparency.
Every year, 8 million tons of plastic enter the ocean. That's equivalent to one truckload dumped into the sea every minute of the day. From there, it goes on a long and destructive journey. The marine ecosystem is completely out of balance. Human intervention such as whale and dolphin hunting or habitual over-fishing of protected species makes it even worse.
Our annual donations support an organisation that works to protect endangered nature and wildlife. In this way, we try to contribute to the preservation of our environment and thus our namesakes!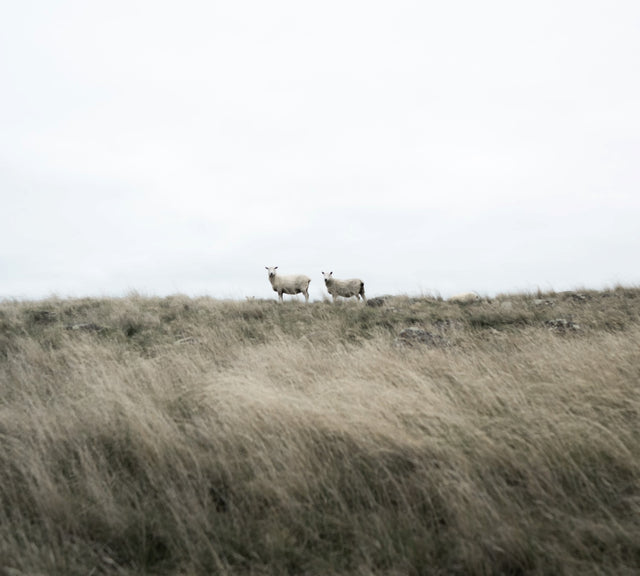 applied ethics
Mindful luxury through crafts and honesty.
The fashion industry is one of the major polluting industries in the world. Fulfilling our responsibilities to the planet and its people is at the heart of our brand. We feel obliged to continuously audit our practices and decisions. But how can we guarantee transparent and conscious interaction?
A luxe piece can only be true luxury if you as a customer know what it stands for! It acquires value through the loving hands that work with the precious materials, and through a supply chain that's tied to the health of the planet. This is what we consider MINDFUL LUXURY.
We only use what we consider to be the finest natural materials. Mindfully produced and ethically sourced, from valuable yarns and fabrics to thoughtful solutions for packaging and shipping.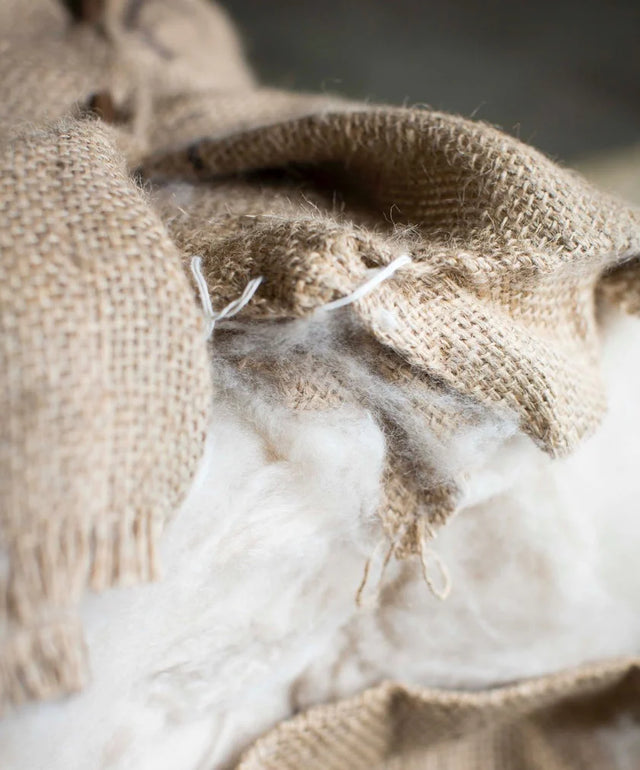 our standards
Most of our fabrics and materials meet the rigorous OEKO-TEX® regulations.
OEKO-TEX® certifies companies whose production is in line with their social and environmental standards, resulting in products that are classified as harmless in all aspects of health.
The majority of our luxe cashmere comes from Cariaggi Lanificio – probably the most prestigious spinning mill in the world. The raw fleece originates from Inner Mongolia and is expertly dyed and spun at their workshops in Umbria, Italy. We've been with Cariaggi for the past 30 years and worship their unmatched, innovative yarns as well as their revolutionary approach on ethical yarn: the adoption of an inclusive sustainability with the aim of caring for the environment, social interest, human activity and animal welfare. Luxury and ethics coexist perfectly to protect future generations. Cariaggi's certifications meet utmost ethical and environmental standards:
REACH stands for Registration, Evaluation, Authorisation and Restriction of Chemicals. It entered into force on 1 June 2007. REACH places the burden of proof on companies. To comply with the regulation, companies must identify and manage the risks linked to the substances they manufacture and market in the EU. They have to demonstrate to ECHA how the substance can be safely used.
All our materials comply with the European REACH regulation in order to guarantee a high level of protection for human health and the environment.
Organic Content Standard OCS is a voluntary standard that validates the content of totally or part of the natural fibers from organic agriculture in textile products.
100% Renewable Energy is a voluntary standard that addresses the energy management system for responsible consumption and which declares the purchase of energy from renewable sources.
ZQ is a wool certification standard that stands for a better quality of life for animals, planet, our people.
Health and Textile is a voluntary certification system that checks the correct use of chemicals and guarantees the eco-toxicological quality of the product throughout the supply chain.
Environmental and the Health and Safety Standards ISO 14001 - ISO 45001: are a voluntary standards that identify a series of international standards concerning the eco-management of company and the health and safety in the workplace.and they must communicate the risk management measures to the users.
cashmere
Cashmere is the most delicate natural fiber from the downy undercoat of the Carpa Hircus goat, soft enough to be worn comfortably against bare skin and 7-8 times warmer than wool. Cashmere has been used for luxe clothing since around 1000 b.c. and was the cloth of kings. The output is scarce, only 0.2% of that of global animal fibers. 
Our cashmere is from Inner Mongolia. Winters are harsh in the Gobi desert which produces the most insulating undercoat with exceptional thermoregulatory qualities – and the finest hair – only  15 – 19 microns (human hair is about 75 microns). The goats are hand-combed in spring, when they shed their winter fur. 150 grams of fluffy fleece are harvested per animal & year. It takes the annual output of 3-4 goats to make a cashmere jumper while a single sheep produces enough wool to produce 3-4 jumpers. 
We kindly ask you to care mindfully for your cashmere. Please be demure – the instructions on the garment label rule! Our Cashmere is from Cariaggi. Their Ethical Yarn Evolution is an approach based on the adoption of an inclusive sustainability with the aim of caring for the environment, social interest, human activity and animal welfare. It is a real corporate value in which luxury and ethics coexist perfectly, to safeguard future generations.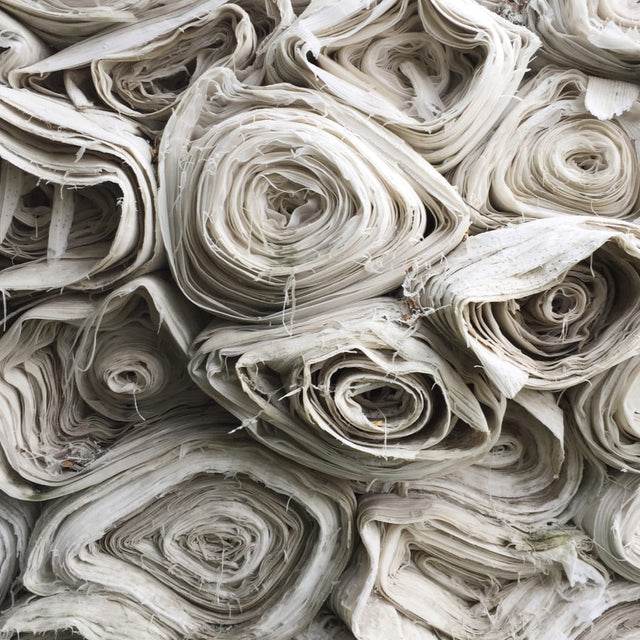 natural silk
Silk has been gained from the cocoon of the silkworm for more than 5000 years. An undamaged cocoon can produce a continuous filament of up to 900 m (the protein from the cocoon of the silkworm is the only continuous fibre found in nature). In conventional silk production, the caterpillars do not survive the process, but are killed by heat. In the so called "Peace Silk" the cocoon is sliced so that the finished butterfly can slip before the cocoon is thrown into hot water. Silk is an investment that should be bought with a long term relationship in mind.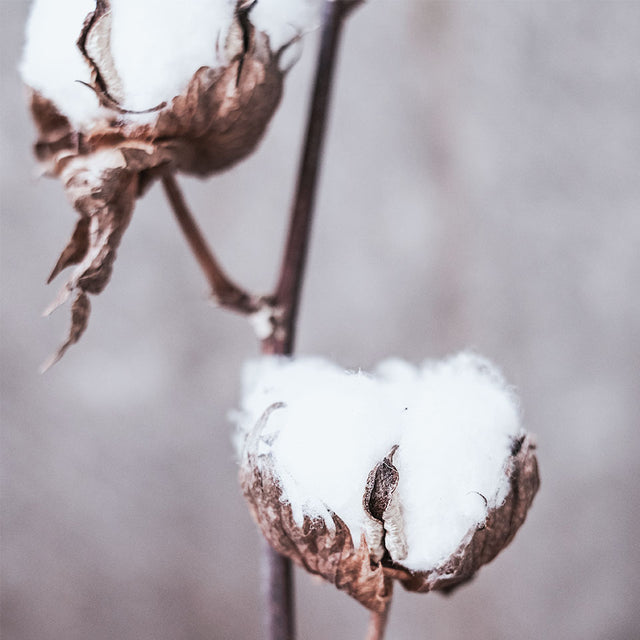 organic cotton
Cotton has been used for the production of textiles since around 6000 BC. The cotton plant's fruit, known as the cotton boll, yields a fluffy white, raw fibres, about 4 cm long. Cotton cultivation consumes a vast amount of water. It's wise to check the origin – some certificates indicate sustainable production: GOTS, kbA, Fairtrade or IVN.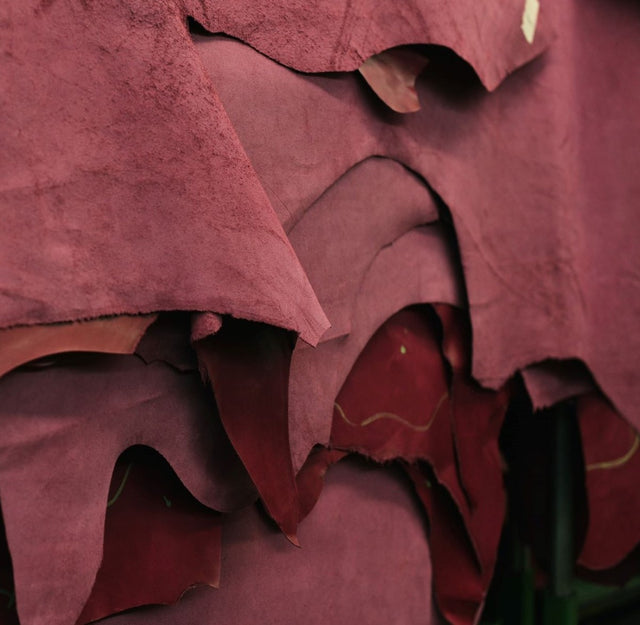 leather
We use goat skins from our Berlin supplier for leather fringes as part of the utilization cycle of meat industry byproducts. Leather is a natural product and should be cared for just as we take care of our own skin. Leather, especially vegetable tanned leather, is sensitive to liquids, light and dirt. Regular greasing or the use of care products such as impregnating spray may help to keep it clean and supple. However, not all types of leather are compatible with the use of such products. Test a cleaner on a hidden spot before applying the visible parts.
sensible packaging
We can't quit packaging but we follow our own mindful rules using sustainable stuff from www.biobiene.com. The German supplier aims for a world without plastic – and without products from China… Everything is made from renewable, biodegradable materials.

carbon neutral shipping
UPS offers a carbon neutral shipping option, giving us the opportunity to reduce our carbon footprint while demonstrating our commitment to sustainability. This way we can contribute to projects like Wolf Creek, which captures methane landfill emissions to generate electricity in Georgia, USA, or, Chol Charoen, which captures emissions released from wastewater to produce electricity in Thailand.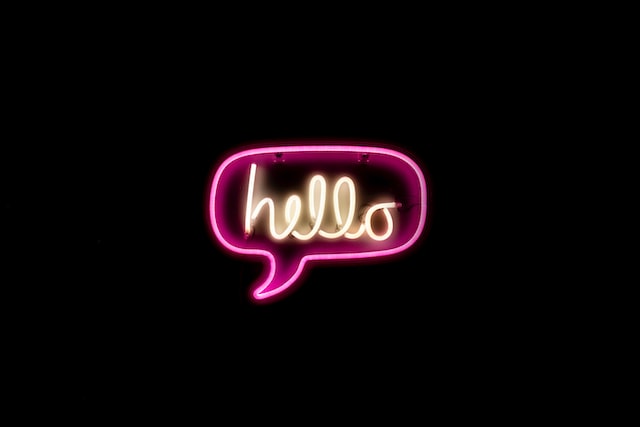 Get in touch
We value your opinion, and look forward to your suggestions for improvement – and your criticism.
Please contact us at any time!
LOVE TO GET IN TOUCH!